Here we are, folks! It's Friday and that means it's time to grab yourself a cup of coffee and take a few minutes to read all the great info for MPS next week. Enjoy!
https://www.milforded.org/article/1346129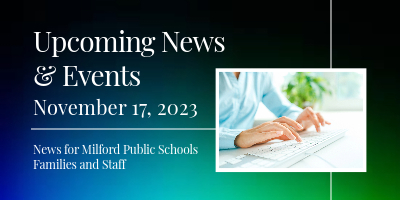 NCAA Recruitment Info Night November 29, 2023 6:00 - 7:00 p.m. @ Parsons Government Center Auditorium Have you been wondering how student-athletes can pursue a college experience in NCAA athletics? Great news! You're not alone and we've put together an event just for you! Learn about the college recruitment process, including information about: - Divisions I, II, & III - Admissions - Compliance - Scholarships - and more This event is FREE and OPEN TO ALL MILFORD FAMILIES. Our presenters include: Tom Drew (Athletic Dir./Jonathan Law), Kevin Siedlecki (Women's Lacrosse Coach/SCSU), Dan Wystepek (Dir. of Transfer & Athletic Recruitment, Bryant Univ.), and Kaitlyn Feyre (Asst. Dir. Undergraduate Admissions/Athletics, Western New England University). We hope to see you there!
Here's a few more from yesterday's MPS Community Resource Fair! Great work and thank you - all - for your participation!
The MPS Community Resource Fair at Parsons was tremendous yesterday -- with more than a dozen organizations sharing information about their available services. We are so fortunate to live in a place that cares so much about its citizens.
Hello, Friday! We are pleased to share the latest, greatest issue of Upcoming News & Events. Check it out -- it's jam packed with lots of good information for the weeks ahead.
https://www.milforded.org/article/1335102
Here's another set of pictures from CPM. What a wonderful morning. Thank you, Veterans!
Students and staff at Calf Pen Meadow School gave a rousing tribute to veterans this morning at their in-school assembly. Songs, readings, and gratitude were all a part of this wonderful celebration.
Veterans Day in Milford Public Schools - we visited Harborside Middle School this morning as dozens of vets received the admiration and thanks from students and staff at the school. Extra nice was a visit from Josh Cummings, a Harborside grad, who now serves. Thank you, all!
Milford Public Schools is honored to continue our tradition of planned Veterans Day activities in our schools. Here's a look at Meadowside School yesterday (11/9) where the school celebrated their vets with songs and applause.
The City of Milford, on behalf of Milford Public Schools, has issued an RFQ/RFP for Testing, Adjusting, Balancing (TAB) services and HVAC systems assessments to satisfy CT Indoor Air Quality testing requirements at all schools. Details:
https://5il.co/28esn
Milford Public Schools Kindergarten Registration to Open on NOVEMBER 13th! Please read the following letter from Dr. Cutaia regarding this and for additional details:
https://www.milforded.org/article/1324000
Here's a few more from our vibrant conversations last night! Can't wait to start crunching the input we received!!
Our second session of THINK BIG, DREAM BIG was, again, a huge success! Panelists, students, and attendees spent the evening talking about the future workplace and how we will prepare our students for it! Great job, team!
Got a special talent? Why not teach others about your skill -- and earn cash at the same time? Click on the link below to pitch your idea to Milford Adult Education!
https://www.milforded.org/article/1289251