Hello Friends! If it's Friday, then it's time for Upcoming News & Events. We have several interesting pieces of news to share with you today so let's go!
SCHEDULE
Monday, Jan. 23rd: Regular schedule
Tuesday, Jan. 24th: Regular schedule
Wednesday, Jan. 25th: Early Dismissal for Students (Professional Learning for staff)
Thursday, Jan. 26th: Regular schedule
Friday, Jan. 27th: Regular schedule
NEWS
MPS Podcast Releases Episode #10 Today!
.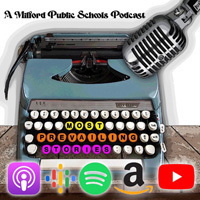 We are excited to report that the latest and greatest MPS "Most Prevailing Stories" Podcast was released today for your enjoyment. Episode #10 includes a terrific discussion of the 2023-24 BOE Budget with Dr. Anna Cutaia, and some great news and sports updates as well. Give it a listen!
---
Board of Education Approved 2023-24 Budget; Next Stop is the Mayor's Office and Board of Finance
The Milford Board of Education completed its budget work this week after approving the BOE Proposed Operating Budget for 2023-24. The BOE's full budget document will now be packaged together with Mayor Blake's budget recommendations (for all of the other departments in the city). The combined package is then sent to the Board of Finance no later than Feb. 1st (according to City Charter) and the BOF's review begins at that time. As you know, members of the public are welcome to attend any and all of the future budget meetings. Once we have the schedule, we will share it with all of you!
Board of Education Meeting Scheduled for Monday (1/23) is Cancelled
And by the way, the BOE Meeting originally slated for Monday (Jan. 23rd), has been cancelled. The next BOE Business Meeting is scheduled for Monday, Feb. 13th. We'll remind you as we get closer …
---
Flex Furniture a 'Big Hit' in Calf Pen Meadow's Kindergarten Classes
Hear the words 'flex furniture' and you might think it just means "furniture that can be moved around." Well – we urge you to have a seat and enjoy this short video that proves it's much more than that! Incorporating softer, more colorful and child-engaging furniture has been proven to enhance a child's learning. The Board of Education and the Milford Public Schools have worked together on this project for the past two years and one of the 'reveals' was filmed at a Calf Pen Meadow kindergarten this week. We thought you would love seeing the students' reactions. Enjoy!
---
EVENTS
Saturday (Tomorrow!), Jan. 21st: Shoreline Jazz Quintet Concert at Milford Public Library, 2:00 p.m., FREE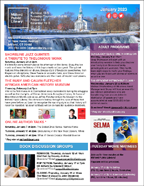 The MPL continues to provide a bounty of programs for us Milfordites – and tomorrow's event is sure to be terrific! The Shoreline Jazz Quintet will pay tribute to Thelonious Monk – improvisational jazz great -- at this free concert. The quintet features Mike Bimonte on drums, Deepak Cyril D'Souza on saxophones, Rich Meyers on vibraphone, Steve Roane on acoustic bass, and Steve Wood on electric guitar. All are welcome! FLYER.
---
Wednesday, Jan. 25th: The New Marijuana, CT's Law and You, presented by the Milford Prevention Council, 5:30 – 7:00 p.m., (virtual)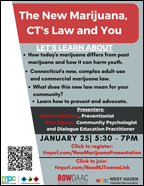 Are you confused about the new laws connected to marijuana use in Connecticut? What does it mean and how will it work going forward? And what about the traits connected to marijuana of the past, compared to what is prevalent today? Join this online discussion to learn more. FLYER.
---
Acting Scene Study Workshop for Kids & Teens, presented by the Milford Recreation Department and Kevin McCormick; starts Monday, Feb. 13th; $195 for 6-week program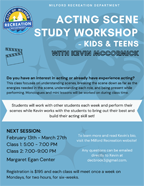 Here's a great program offered through the Milford Recreation Department. Led by Kevin McCormick, students will learn how to break down a scene and pinpoint the roles and energies involved with each one. Students will work with each other and with Kevin during the 6-week study, held at the Margaret Egan Center. Click HERE for the flyer. Register asap!
---
Milford Youth Lacrosse Now Accepting Registrations; Deadline is 2/18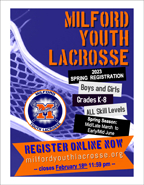 The Milford Youth Lacrosse organization is now accepting registrations! Boys and girls from grades K-8 are asked to register by Feb. 18th in order to be added to a roster. The spring season will run from Mid-March to Early/Mid June. FLYER.
---
Room 17 Math Partners with the MAC on a Special Math Based Art Show; Submissions Due by March 12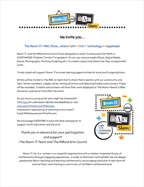 It's no secret – art and mathematics are closely entwined – and children can use their creative talents to display how math has influenced their work! Kids in grades K-12 can use various media (music, digital media, dance, photography, painting, sculpting, etc.) to create a piece and share how they incorporated math. The deadline for submission is March 12th. Click HERE to learn more.
---
Have a great weekend, everyone … see you next week!
-Milford Public Schools