Hello Friends -- here's this week's installment of Upcoming News & Events. Enjoy!
SCHEDULE
Monday, Jan. 16th: SCHOOLS/OFFICES CLOSED in recognition of Dr. Martin Luther King, Jr. Day
Tuesday, Jan. 17th: Regular schedule*
Wednesday, Jan. 18th: Regular schedule*
Thursday, Jan. 19th: Regular schedule*
Friday, Jan. 20th: Regular schedule*
*High School students will follow an altered mid-term schedule all next week. Here's the link for the mid-term schedule.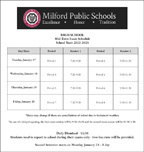 ---
NEWS
Next Year's School Calendar Just Released (2023-24)
The Board of Education has released the Academic Calendar for 2023-24. Click HERE to view.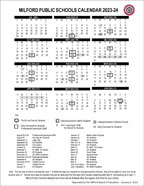 ---
EVENTS
Monday, Jan. 16th: Rev. Dr. Martin Luther King, Jr. Tribute Event, sponsored by The Links, 12:00 noon – 1:00 p.m., Virtual event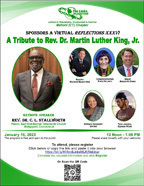 In honor and recognition of life and contributions of Rev. Dr. Martin Luther King, Jr., The Links Inc. has put together a wonderful program that will take place on Monday, Jan. 16th. The program will be held virtually (click HERE for the flyer that includes the links to log on). The Keynote speaker will be Rev. Dr. C. L. Stallworth, pastor of the East End Baptist Tabernacle Church in Bridgeport. Additional guest speakers will include Sen. Richard Blumenthal, Congresswoman Rosa DeLauro, and Mayor Benjamin Blake. Performances will be delivered by Barbara Alexander and Tyler Jenkins. We are proud to support the work of this fine organization and encourage you to join this great event.
---
Wednesday, Jan. 18th: Board of Education Budget Meeting, Parsons, 7:00 p.m.
The Milford Board of Education will conduct a Budget Meeting on Wednesday with a vote expected on the Superintendent's Proposed Operating Budget for 2023-24. Once the vote takes place, the budget is re-named to the Board of Education Proposed Budget, 2023-24. AGENDA
What Happens Next?
The annual budget process is a long but fascinating endeavor. Here's a brief overview of how it works. And remember, you are welcome to attend any of the meetings that will take place over the next few months.
- BOE Proposed Budget is now sent to the Mayor's Office no later than Feb. 1st. The BOE Proposed Budget is packaged together with the Mayor's Recommended Budget and sent to the Board of Finance.
- Board of Finance reviews the contents of the proposed budget package for several weeks and holds many public meetings to hear more details about the department requests. The BOF concludes its work with a vote; the resulting document becomes the Board of Finance Recommended Budget. Their Recommended Budget then goes to the Board of Aldermen.
- The Board of Aldermen conducts their own review of the budget documents and holds a series of additional departmental meetings to learn more about the monies requested. These, also, are public meetings. The BOA concludes its work with a final vote (usually in May). With this action, the mill rate is set and the resulting document becomes the City of Milford Adopted Budget for the year commencing July 1, 2023 through June 30, 2024.
Lots of steps - we know - but thought you might like to see the journey the budget process takes each year. All residents are encouraged to attend any of the forthcoming budget meetings in order to learn more about it.
---
Follow Us on Instagram and Twitter!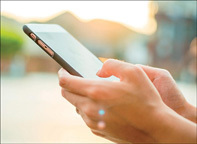 If you haven't done so already, now is the time to join the Instagram and Twitter communities!! These powerful social media platforms can provide instant news and information, 24/7! Once you create your account (download the apps first from your App Store/Google Play provider) you can 'follow' us on the accounts established below. Lots of great info is posted there. Enjoy!
Twitter: https://twitter.com/mpsctnews
Instagram: https://www.instagram.com/milfordct.ps/
---
Okay folks! That's it for this week. One last thought – today is Friday the 13th – and the Mega Millions jackpot is worth $1.3 billion for tonight's drawing. Maybe the number 13 will bring good luck to someone tonight! Have a great weekend!
-Milford Public Schools