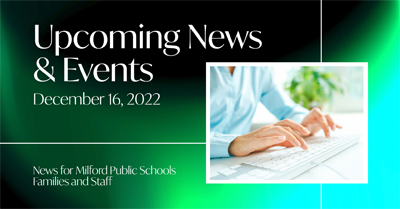 Happy Friday, everyone!
One more week to go. We're sure your 'to do' list is long – and so we're going to keep this as brief as possible today. The schools will be wrapping up their winter and holiday events – so it will be REALLY important to read their communications today and over the weekend. Here we go for some additional important stuff to know….
SCHEDULE
Monday, Dec. 19: Regular Schedule
Tuesday, Dec. 20: Regular Schedule
Wednesday, Dec. 21: Regular Schedule
Thursday, Dec. 22: Regular Schedule
Friday, Dec. 23: Schools/Offices Closed, Holiday Break Begins – See you again on Tuesday, Jan. 3rd!
NEWS
Milford Foodservice Expected Pricing for Meals in 2023
As you know, the federal grant that enabled the Milford Foodservice Team to provide breakfast and lunch meals for free to all students will soon be coming to an end. That said, we are publishing the prices for breakfast and lunch meals that will be in place, starting in January 2023. If you wish to be considered for reduced-price or free meals going forward through the National School Lunch/Breakfast Program, you must complete the Free/Reduced-Price Application as soon as possible. Please check out our information on the district website HERE.
BREAKFAST
Elementary: $1.75
Middle School: $2.00
High School: $2.50
LUNCH
Elementary: $3.35
Middle School: $3.60
High School: $3.85
At all levels, reduced-price breakfasts for qualifying families are 30¢.
At all levels, reduced-price lunches for qualifying families are 40¢.
Milford Public Library: Year-End Wrap Up
With our holiday break coming up soon, you might want to plan an excursion to the Milford Public Library and check out all the great things they have to offer! To be honest, there is ALWAYS something good happening there – for visitors of all ages. Couple of examples coming up in the next few weeks: Food Explorers: Chopped, Take the Stage Drama Workshop, Winter Break Movie, and much, much more. The MPL hosts HUNDREDS of projects and programs throughout the year – FREE – to all, thanks to the resources provided by the Friends of Milford Library. The FOML welcomes everyone and memberships start at only $15 (individual) for the entire year. Why not put the MPL on your holiday list this year and give the gift that keeps on giving all year long?
Library Holiday Closure Schedule
As you know, the holiday season is upon us – and with that comes the closure of some municipal offices and venues. Here's the holiday closure schedule for the Library:
Saturday, 12/24: Christmas Eve
Monday, 12/26: Christmas Day (observed)
Saturday, 12/31: New Year's Eve
Monday, 1/2: New Year's Day (observed)
We wish you a productive and happy weekend, everyone! See you next week.
-Milford Public Schools