Hello, Friends,
Let the preparations begin for Thanksgiving! There will be lots of grocery shopping, cleaning and cooking beginning this weekend – so let's get to it. One piece of advice, though – pace yourself. Take on one task at a time and enlist the help of others – whether it's putting away the groceries, emptying the dishwasher, polishing the tables (you get the idea) or any other task at hand. Remember -- this holiday is rooted in giving THANKS, not perfection. Here are the big things to know for next week …
SCHEDULE
Monday, Nov. 21: Regular schedule
Tuesday, Nov. 22: Regular schedule
Wednesday, Nov. 23: Early Dismissal Students/Staff
Thursday, Nov. 24: Schools/Offices Closed for Thanksgiving
Friday, Nov. 25: Schools/Offices Closed for Thanksgiving Recess
NEWS
Thanksgiving Day Game Details: Law vs. Foran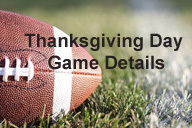 Are you ready for some football?! Well – the annual Thanksgiving Day Game matching up the Jonathan Law 'Lawmen' and the Foran 'Lions' is bound to be exciting and competitive, with both schools sporting state championship expectations this year. We are providing some VERY important info regarding the game below (especially parking issues).
Also know – both the Thanksgiving Day Game, as well as the Powderpuff Game, will be LIVESTREAMED for those who cannot attend either event. Links will be posted on our website next week. In the meantime, please read on….
DATE: Thursday, Nov. 24
LOCATION: Jonathan Law HS
TIME: 10:30 a.m. kickoff
TICKETS: $7 at the gate
Parking & Shuttle Bus Info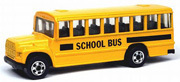 Given this is the most highly attended athletic event of the year, parking is always tight – so we recommend you get to the game early if you need a spot.
In addition, PARKING AT THE K-MART SHOPPING CENTER WILL NOT BE AVAILABLE this year – due to the demolition work currently underway at that site. That said, we have partnered with Durham School Services to have SEVERAL FREE SHUTTLE BUSES AVAILABLE ON GAME DAY looping from Walnut Beach to Jonathan Law HS. Here's the route:
Walnut Beach Parking Lot (Pick Up): Park your car in the lot at Walnut Beach and gather at the corner sidewalk near the beach entrance (corner of East Broadway/Viscount Drive). The pickup location will be clearly marked.
Jonathan Law (Drop Off): The shuttle bus will drop off passengers at the front doors of Jonathan Law HS.
Shuttles will continue to loop around from both locations throughout the game. Please know in advance that food and drink will not be permitted on the shuttle buses on game day. We would like to thank Durham School Services for their help in arranging this service for our game attendees.
---
Foodservice News: Free Meals Continue Through December 2022
Back in August, the Milford Foodservice department confirmed it would continue to provide breakfast and lunch at no charge this school year, thanks to limited federal funding we received through the American Rescue Plan Act of 2021 (ARP) and the subsequent allocation to the Connecticut State Department of Education (CSDE). At that time, we reported we would provide free meals to students until the funding source was depleted. We also stated that we would provide all of our families with a 30-day notice of when we anticipated the funds would be depleted.
As of today, we are confirming the Milford Foodservice department will continue to offer lunch and breakfast to students at no charge through December 2022.
We do, however, expect the Free Meal program will end at the end of December and meals will once again need to be purchased starting in January 2023.
To prepare for this change in our Foodservice program we recommend that you familiarize yourself with the online payment portal we use here in Milford, called Titan. This service gives families the opportunity to create an account for the entire family that is convenient and easy-to-use. Click HERE to learn more about Titan.
Families that previously completed a Free/Reduced-Price Meals application and were approved for the program will still be able to receive free/reduced price meals. If you did not complete a Free/Reduced Price Application this year but believe your family would qualify, we strongly urge you to complete the form that is linked below now so your child's meal service will not be interrupted.
2022-23 Free/Reduced Price Online Application
2022-23 Free/Reduced Price Meals Printable Application
We will continue to provide updates – with a specific end date for the program – as we get closer. In the meantime, we are grateful for the funding we have received to date from our state and federal sources and are thankful for our Milford Foodservice Team and their impeccable service throughout this program. If you have any questions, please feel free to contact your school's cafeteria manager.
---
PEP Program Now Accepting Participants; 1st Class Starts Dec. 6th – Apply Now - FREE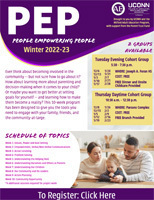 We are delighted to announce the People Empowering People program (PEP) is back and better than ever! Offered through our Milford Adult Education department and now in its 2nd year, the program invites individuals who want to learn about and become more involved in their communities and engage with others in a local project of their choosing. This FREE program is held once a week (2 hour sessions) over the course of 14 weeks (10 classroom sessions and 4 community project sessions). Based on the response from last year's inaugural class, we are happy to offer both daytime and evening cohorts this time! To learn more about this wonderfully empowering program, we encourage you to watch this short video incorporating the thoughts of last year's participants. And if you are interested, click HERE to get started for the upcoming cohorts, starting Dec. 6th. We look forward to meeting you!
---
MPS 'Most Prevailing Stories' Podcast Episode 6 is 'Best One Yet!'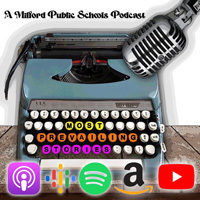 Here's a wonderful treat on a Friday! A brand-new podcast episode went live today (Episode 6). Today's episode gives a beautiful glimpse of last week's Veterans Day activities, high school athletics overview, Early Dismissal protocols, and some details about the Thanksgiving Day Game. A really excellent episode – take a moment to check it out.
---
Milford Police Dept. to Conduct Fundraiser: Milford Plunges for Brrristol!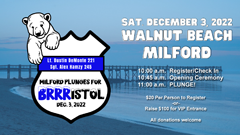 Dec. 3rd, 10:00 a.m., Walnut Beach The Milford Police Department has organized a special event – slated for Saturday, Dec. 3rd – to help raise funds in support of the Bristol Police Department after their tragic loss of two officers one month ago. The Milford Plunges for Brrristol event will invite any brave soul to challenge the icy waters at Walnut Beach and go for a plunge. Participants can register for $20 per person (you can pre-register, if you like) or, if you raise $100 on your own, you can register as a VIP participant. And of course, if jumping into the Sound isn't your thing, your donations are always accepted regardless. All money raised will go to 'Fund the First' campaign for the families of fallen Bristol police members Lieutenant Dustin DeMonte and Sergeant Alex Hamzy. Click HERE to register or donate. Thanks in advance for your support!
---
West Shore WAVE Program Opens Art Gallery Show @ MAC Firehouse Location, Saturday (11/19) and Sunday (11/20)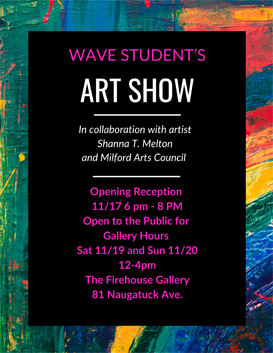 Students in the West Shore Middle School WAVE program are excited to share their artwork with the public as they open their very first gallery show at the MAC Firehouse Gallery location (81 Naugatuck Avenue). The Gallery is open to all; the show will be open on Saturday (11/19) and Sunday (11/20) from 12:00 noon to 4:00 p.m. Stop on by and enjoy this collection of student work.
Enjoy the weekend, everyone! See you on Monday.
-Milford Public Schools