Upcoming News & Events
October 21, 2022 and Beyond
Oh my goodness! We must start out this week's issue with the stunning scenery we are seeing outside on this gorgeous Friday afternoon. Fall in New England – we are just SO fortunate to be able to see this. Simply beautiful.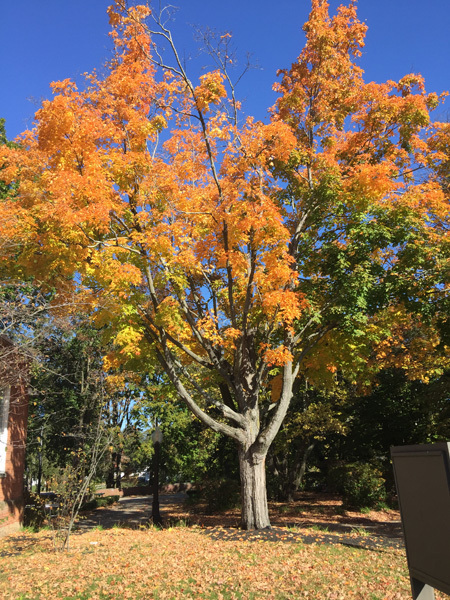 On another note, this week our schools were extremely busy with learning and Parent-Teacher conferences. Thank you – all – for making this year's program so worthwhile and informative!
So – here we go. Another week is upon us … here's what you should know.
SCHEDULE
Monday, Oct. 24: Regular schedule
Tuesday, Oct. 25: Regular schedule
Wednesday, Oct. 26: Early Dismissal All Students
Thursday, Oct. 27: Regular schedule
Friday, Oct. 28: Regular schedule
NEWS
Monday, 10/24: Board of Education Meeting, Parsons, 7:00 p.m.
The Board of Education will conduct its October 'Committee of the Whole' meeting on Monday. Here's what's on tap for the meeting: Approval of the Educational Specifications for the Partial Roof Replacement (Foran), School Transportation Report, Policy Review: Drug and Alcohol Testing for School Bus Drivers (4212.42), Reporting of Child Abuse, Neglect and Sexual Assault (5141.4), Sexual Abuse Prevention and Education Program (5145.511), Public Comment. All are welcome to attend and hear more about these important topics. AGENDA. PACKET.
MPS Podcast Episode 4 Released Today
Great news! The MPS Podcast (Most Prevailing Stories!), Episode 4, hit the airwaves today! Take a listen and hear about the MPS high school athletic update, the recently approved National External Diploma Program, National Merit Commended Scholars, Parent Teacher Conferences, Charitable Fundraising Causes, and Halloween Fun. We hope you enjoy this chock-full edition – and look forward to future episodes!
Thanksgiving Day Game Details … Powderpuff, too!
This is the time of year lots of folks are asking about the Thanksgiving Game and the Powderpuff Game. Both games match up Jonathan Law vs. Foran. Here's what you need to know!
Annual Thanksgiving Day Game: Thursday, Nov. 24th, @ Jonathan Law HS, Kickoff is 10:30 a.m. Pre-game ticket sales are $5 each (purchase at either high school; check school communications for details). Tickets at the gate on game day will be $7 each.
Annual Powderpuff Game: Tuesday, Nov. 22nd, @ Joseph A. Foran HS, Kickoff is at 6:00 p.m. More details to come.
Got a Special Talent? Teach an Adult Ed Course, Earn Cash
Milford Adult Ed Program In Search of New Course Instructors for Spring 2023
Do you have a special talent you'd like to share with others – and earn some extra cash at the same time? In an effort to expand the enrichment course offerings in our Milford Adult Ed program, the staff continues to focus on bringing in new courses to keep the program fresh. Some new additions that were immediately 'sold out' this fall were Basketweaving, Professional Presentation Skills, the American Revolution & Milford, to name a few. As we gear up for the Spring 2023 session, we believe the talent right in our own community is rich and interesting. Proposals for new courses are welcome via the district's online Got A Special Talent? collection form. The link can also be found on the MPS district website at www.milforded.org (select the Adult Education tab at the top). Questions also may be addressed to milfordae@milforded.org. We look forward to hearing from you!
UPCOMING COMMUNITY EVENTS
TOMORROW! Party in the Stacks at the MPL, Saturday, Oct. 22nd, 7:00 p.m. Here's a fun event that is yet another example of our wonderful community. Organized by the Friends of the Milford Public Library, this event helps them earn the much-needed funds that they, in turn, use to support the hundreds of activities conducted at the MPL … for free … for our kids and residents. The 'Party in the Stacks' is slated for Saturday, October 22nd, at the Milford Public Library, from 7:00 – 10:00 p.m. Adults only. Tix are $55 per person. Click HERE for the flyer.
Have a wonderful weekend, everyone. It's gonna be gorgeous out there. Enjoy – and we'll see you again next week!
-Milford Public Schools