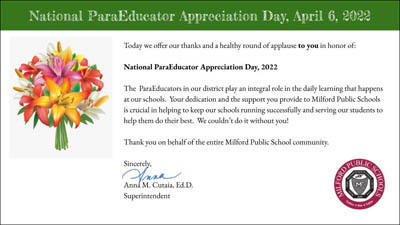 Today we offer our thanks and a healthy round of applause to our ParaEducators in honor of:
National ParaEducator Appreciation Day, 2022!
The ParaEducators in our district play an integral role in the daily learning that happens at our schools. Your dedication and the support you provide to Milford Public Schools is crucial in helping to keep our schools running successfully and serving our students to help them do their best. We couldn't do it without you!
Thank you on behalf of the entire Milford Public School community.
- Dr. Anna Cutaia
Superintendent