The Milford Public School district is pleased to announce its 'best of the best' with the release of the 2021 Teacher of the Year, Para-Educator of the Year, and Parent of the Year winners. This time-honored tradition gives the district a way to applaud the great work of individuals, both at the school and district level. Representatives for each category at the school level are determined first, followed by the review of their nomination packets by a selection committee to determine the districtwide winners.
"This year, more than any other, we are so grateful for the selfless and enthusiastic work of all of our winners," said Dr. Anna Cutaia, Milford's superintendent of schools. "The past year presented us with many unexpected challenges – and our teachers, paras, and parents really 'stepped up to the plate' to make sure everyone's needs were being met – all the while with a friendly and enthusiastic spirit. It was truly amazing to watch."
Teacher of the Year: Jill McCormack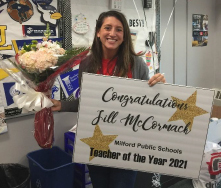 The students and staff, alike, at West Shore Middle School were thrilled to learn their own Jill McCormack had been named Milford's 2021 Teacher of the Year. Ms. McCormack, a guidance counselor at the school, is described as a dedicated and enthusiastic practitioner, skillfully using her collaborative problem solving skills to find solutions – no matter what group is involved. Jill was noted as someone the entire West Shore community can count on for help: students, colleagues, parents. Beyond the day-to-day requirements of her position, Jill goes 'above and beyond' and is routinely found leading special interests at the school, such as the schoolwide peer support group, an anti-bullying campaign, the annual high school fair, 6th grade orientation, spirit weeks, the Law Rocks 8th grade promotion, and a wide variety of fundraisers designed to benefit the community-at-large. In her nomination packet, a commenter said, "Jill's first words every day at school are, 'how can I help?'" Congratulations and thank you, Jill.
Para-Educator of the Year: Kacey Golebiewski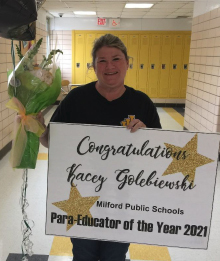 "Unstoppable" is one way to describe this year's Para-Educator of the Year Kacey Golebiewski, from Jonathan Law High School. Kacey's primary responsibility is her work with students with special needs and strengthening their practical skills for the work world. When the pandemic forced schools across the country to change the way instruction had traditionally been delivered, Kacey worked with administration to develop a business that her students could actually operate – and matched the roles within the business to each student's individual strengths. Bobo's Biscuits Program was 'born' with the group learning how to run their own dog biscuit company -- from making the biscuits to marketing, accounting, packaging and distribution. The concept was a 'big hit' and the students sold the biscuits at the school and through Parsons Perks coffee carts at the district central offices. Described as an 'enthusiastic problem-solver' Kacey places the most emphasis on making sure her students are comfortable and can feel accomplishment and pride. Congratulations and thank you, Kasey!
Parent of the Year: Christina Marini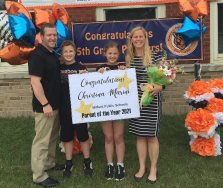 Parent involvement is crucial to any public school district – and during the past year when our buildings were not open to the public -- parents needed to become inventive when planning family programming and student-friendly events. Enter Mrs. Christina Marini – our 2021 Parent of the Year from Pumpkin Delight Elementary -- who vowed not to let a little pandemic get in the way of family engagement. A strong supporter of the home-school connection and long standing member of the Pumpkin Delight PTA, Christina knew it was vital to keep communication strong during the past year. Through her volunteering efforts, the school was able to still enjoy the familiar events everyone has loved for years but just in a different way, such as plant sales, yearbooks, student science fairs, field days, STEM-based after school activities, and the Read Across America celebration. Students were able to benefit from a wide array of resources and experiences that Mrs. Marini was able to coordinate between the school and the PTA. Congratulations and thank you, Christina!
Winners at the school level were announced earlier in the process and are as follows. Thank you for your efforts.

Teacher of the Year
Para-Educator of the Year
Parent of the Year
Calf Pen Meadow: Daniela Marchitto
John F. Kennedy: Elise Rosengrant
Live Oaks: Kristine Torreso
Mathewson: Jill Aronin
Meadowside: Jennifer Jaques
Orange Avenue: Heather Stewart
Orchard Hills: Elizabeth White
Pumpkin Delight: Megan DelMonte
East Shore: Ester Moore
Harborside: Joseph Urban
West Shore: Jill McCormack
Jonathan Law: Michelle Ryan
Joseph A. Foran: Melissa Kaminski
Calf Pen Meadow: Rhonda Hart
John F. Kennedy: Teresa Fedor
Live Oaks: Kristine Torreso
Mathewson: Michelle Scherback
Meadowside: Patricia Kubik
Orange Avenue: Amanda Keator
Orchard Hills: Jean Pudill
Pumpkin Delight: Bonnie Feuer
East Shore: Gail Urban
Harborside: Patricia Devito
West Shore: Jean Pisano
Jonathan Law: Kacey Golebiewski
Joseph A. Foran: Jody Bourque
Calf Pen Meadow: Stephanie Kanaan
John F. Kennedy: Kylie Guest
Live Oaks: Jennifer Shoop
Mathewson: Debarghya Sengupta
Meadowside: Kristin Magazine
Orange Avenue: Jennifer Tingets
Orchard Hills: Melissa Jungeblut
Pumpkin Delight: Christina Marini
East Shore: Mary D'Amato
Harborside: Susan Cameron
West Shore: Judy Gachi
Jonathan Law: Bridget Lawless
Joseph A. Foran: Joan DeMarco
Please click here for the full press release.