Hello Friends,
We are so happy you've joined us today. LOTS of news to share – so let's get to it. We do ask, however, that you pay special attention to the 2 items that are inviting Milford citizens' participation for the future of our great city. On Tuesday (9/26) the City is conducting an interesting listening session open to all residents to hear, learn, and provide input on Milford's future economic future. Later, in October, the Milford Public Schools will conduct two Community Conversations: THINK BIG, DREAM BIG! More info appears below about these important events. In addition, there are several great events planned for families in the coming weeks. We are, indeed, fortunate to live in a place that places such value on its citizens. Enjoy!
---
SCHEDULE
Monday, 9/25: Schools Closed (Yom Kippur)
Tuesday, 9/26: Regular schedule
Wednesday, 9/27: Regular schedule
Thursday, 9/28: Regular schedule
Friday, 9/29: Regular schedule
---
Tuesday, 9/26: Board of Education 'Committee of the Whole' Meeting, Parsons, 7:00 p.m.
The Board of Education will hold its Committee of the Whole meeting on Tuesday, at the Parsons BOE Meeting Room, at 7:00 p.m. All are welcome to attend and hear the work of our Board. Here's what's on the agenda: CSDE Grant Award to Milford Family Resource Center, MPS Student Achievement Results (2022-2023), Proposed 2024-25 Budget Priorities and Assumptions, Board Policies under review: 6161 Library Media Materials – Selection, 6161.7 Use of Proprietary Software Products, 6177 Use of Commercially Produced Video and Audio Recordings, Public Comment. AGENDA PACKET.
---
Wednesday, 10/4 and Monday, 10/16: Think Big, Dream Big! A Community Conversation on the Future of Milford Public Schools
What do we want for our school system? How can we prepare students for the future workforce? What does this mean for our community? Please join us as we engage in a Community Conversation on the future of the Milford Public Schools: THINK BIG, DREAM BIG! First, we will gain some valuable insight from a Student and Business Leader panel regarding school experiences, future workforce expectations, and what that means for our entire community. All attendees will then discuss these topics in small groups and reconvene at the end for a global view of all perspectives.
Two sessions are available: Wednesday, Oct. 4th (@ Foran) or Monday, Oct. 16th (@ Law). The same presentation will be conducted at either session. Pre-registration is required. A light dinner will be served from 5:30 – 6:00 p.m. with the presentation following from 6:00 – 8:00 p.m. FLYER REGISTRATION. We look forward to seeing you at this great event!
---
Tuesday, 9/26: City of Milford Listening Session on the Future of our Economic Strategic Plan, City Hall, 6:30 p.m.
We are all invited to attend a Listening Session on the Future of our Economic Strategic Plan for the City of Milford. What aspects of the Milford community will impact the future financial health of the city? How does growth impact that health? Where can we improve? What can we expect? Whether you are a long-timer here in Milford or a new member of our beautiful community, we need to understand where our city is headed. Please join your fellow residents at this fascinating event on Tuesday at Milford City Hall to learn more and provide your thoughts and suggestions regarding Milford's economic future.
---
MPS Podcast Series: Season 2 Launches!
After a long anticipated return, we are back for season 2 of the Most Prevailing Stories podcast. We gathered some first day of school interviews from JFK Elementary School's new Principal Amy Rizzo (6:10). Like last season, we also lead with some districtwide news (1:12) and sports (3:48). Enjoy!
---
EVENTS/PROGRAMS
Saturday, 9/30: NOAA Fisheries Lab Open House, 9:00 a.m. – 2:00 p.m., FREE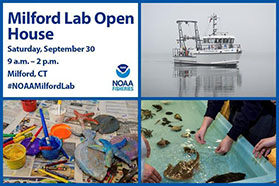 Here's a chance to visit the NOAA Fisheries Milford Lab Open House, located at 212 Roger Avenue. This federal research lab plays an important role in the study of our oceans, aquaculture, and Long Island Sound.
Meet NOAA scientists and learn about shellfish aquaculture, Long Island Sound habitat research, ocean acidification research, and marine science sampling gear. There will be hands-on activities for kids, including a sea life touch tank, fish printing, and seaweed pressing. This event is free, family-friendly, and fun for children of all ages! Mark it on your calendars today!
---
One City, One Story Selection is Announced: The U.S. Constitution!
Earlier this month, the Milford Public Library continued its long-standing tradition of selecting a written work that we all, as Milfordites, are asked to read, (kindof like our own Oprah's Book Club!). We've enjoyed some wonderful titles over the years – and this year the selection is extraordinary: The United States Constitution! This incredible document was written hundreds of years ago – yet provides perspective and guidance on issues that we tackle even today. Become an informed citizen and take some time to read and learn, for yourself, what is and what is not included in this famous document. Fascinating. THE U.S. CONSTITUTION
---
Party in the Stacks Returns to the Milford Public Library: Saturday, Oct. 21st, 7:00 – 10:00 p.m., Tix $50 thru 9/30. $60 as of 10/1
The Friends of the Library will be hosting their annual fundraiser, Party in the Stacks, on October 21st from 7:00-10:00 p.m. This year's theme -- Where Mystery and Romance Meet -- will transform the library with iconic images from books and movies. This is a 21+ event featuring themed hors d'oeuvres, specialty cocktails, costumes (optional), dancing, raffles, and more! Tickets can be purchased online (tinyurl.com/FOMLPITS) or in person (cash/check only) at the library. Ticket prices are $50 through September 30, $60 beginning October 1st. Let's support this wonderful event – so the Friends may continue to provide the funding for the hundreds of programs offered through the library every year. Thanks! FLYER
---
In Closing…
We wish a restful, reflective Yom Kippur to our friends who celebrate. Enjoy the long weekend, everyone, and we'll see you next week.
-Milford Public Schools