Happy Friday, MPS Family,
We're back and what a wonderful week we've had! Staff members reported back to their buildings to put their final touches on their classrooms in anticipation of the first day for students on Wednesday. And what a glorious day it was. Even with impending rain in the forecast, that couldn't dampen anyone's spirits as we saw excitement and smiles across the entire district. Welcome back, everyone! Now – let's get to the news.
SCHEDULE
Monday, 9/4: Labor Day, Schools Closed
Tuesday, 9/5: Regular schedule
Wednesday, 9/6: Regular schedule
Thursday, 9/7: Regular schedule
Friday, 9/8: Regular schedule
Communications: We Like to Keep You 'In the Loop'
One of our priorities here in MPS has always been to keep everyone 'in the loop.' You'll be pleased to know you have many, many resources available to find an answer to just about any question you might have. Here are the most-frequently-used tools you'll see this year.
UPCOMING NEWS & EVENTS: This weekly news piece is sent via email to you every Friday and contains info about the Schedule for next week, interesting newsbits, and information about events and other special programming across the district and throughout the city. We also simultaneously post on our website and tweet the news (see Twitter, below). Take a 5-minute coffee break and read through this easy-to-read (and sometimes humorous) piece every week!
'X' – TWITTER: This social media platform is an excellent way to get news and information quickly. The Milford Public Schools' account is @mpsctnews. This weekend, make sure you 'Follow' us and you'll receive info straight from the district as it's posted.
MPS WEBSITE: Our website offers a more robust place to retrieve information. Given the depth of the information available there, why not spend some time this weekend checking out the site to see what's there.
MPS APP: Yep – we have an App for that! Visit your app provider on your smartphone and download the App for Milford Public Schools (make sure you download the one for Milford, CT – it's on a maroon background). Daily calendars, events, live feed entries, and more are all in one place.
MPS Podcast: Short for 'Most Prevailing Stories' – the MPS podcast is sure to provide great content about current news and happenings. Interviews with students and staff members, info about upcoming programs in the schools, sports updates and more. Episodes are usually 10 minutes in length – enjoy! Watch for the first one of the season – coming soon!
"Back-to-School Central" Button: Visit it first when you have a question
The district's website Back-to-School Central button has been getting good reviews as it contains dozens of bona fide answers to the most frequently asked questions. School hours, the 2023-24 Academic Calendar, breakfast/lunch questions, bus routes, insurance and much, much more. Check it out!
Milford Foodservice Info at your Fingertips
We've received many questions this week about breakfast, lunch, and payment options – among other things connected to our foodservice department. There are many valuable documents and resources available to you – guaranteed to provide the answer you're looking for. Check these out!
What's Included in a School Breakfast
What's Included in a School Lunch
We think you'll like this wonderful informational piece: A Guide to Milford Food Services, 2023-24. This tri-fold marketing piece will provide answers to many of your questions – written in simple, short style. Print one out and keep it on your fridge for easy access.
Questions about LINQ: This 11-page guide answers most, if not all, of the questions you might have about LINQ – the online payment portal for school meals. Clean, clear, and concise – this is a good one to review quickly and easily.
Didn't find what you're looking for? Call the Foodservice Department at (203) 783-3490 – they're happy to help!
Music News: Registration info, Instrument Rentals, Program Overview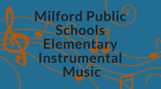 Here's some interesting news for parents of elementary students who want to learn how to play a musical instrument. Our terrific MPS Music website includes everything you want to know about our elementary Music Instruction program: the instruments available, vendors for instrument purchase or rental, and more. The first screen to appear is for Registration but click on the Menu tab on the upper left to see more categories of info. Good stuff!
Additionally, for all 4th graders, it's not too late to register for Band or Strings. Please click on the Music webpage link above for details on how to register, get an instrument and more.
EVENTS/PROGRAMS
For today's events/programs listings – here are some great flyers for local programming. Check it out!
Boy Scouts Troop 1: For Grades 6-12
Milford Knights Basketball Tryouts: 9/9 – 9/17
MAC/Eastbound Theater: Auditions for their upcoming production, Viral Dream, on 9/5 and 9/6
In Closing…
Enjoy the long weekend and we'll see you next week!
-Milford Public Schools