Hello Friends!
We are happy to visit with you on such a gorgeous Friday. Just wanted to check in with all of you and provide a few pieces of news you might like to know about. Hope you are all well and having fun this summer so far. Here we go:
UPCOMING EVENTS & SOME NEWS
THIS SUNDAY, July 9th: The 46th Annual Sand Sculpture Contest, Walnut Beach, Registration starts at 8:15 a.m., FREE

Grab your shovels and your beach buckets on Sunday and have some fun at the 46th Annual Sand Sculpture event. All ages and skill levels welcome. Start building your creation at low tide (expected around 11:00 a.m.). Then the fun begins as all kinds of creatures, items, castles, and things you might not even find on the beach start to appear! Judging will begin at 12:30; awards at 1:00 p.m. Even if you don't want to participate, this is a wonderful family-style event where it's fun to just walk along the beach and observe. One thing: remember to bring sunscreen and a water bottle … it's gonna be hot and sunny out there! Have fun!
---
Call 2-1-1 for Available Cooling Centers over the Weekend
If you've been watching the news for the past few days, we are expecting the next few days to be brutally hot. If you (or an elderly relative or friend or neighbor) need to find a place to get cool, the answer is quickly accessible by dialing 2-1-1. They will provide all of the cooling centers available in the area. If those don't work, just think about visiting places that have air conditioning – such as the movie theaters, the public library, or the mall. As we said in the post above, make sure you hydrate; carry a water bottle with you everywhere! Stay cool, friends.
---
Monday, July 10th: Board of Education Business Meeting, 7:00 p.m., Parsons
The Board of Ed will conduct its July business meeting on Monday. All are welcome. Here's what's on the agenda:
Public Comment, Chair's Report, Approval of Working Agreement b/t MBOE and the Milford Paraeducators Union, (9/1/2023-8/31/2026), Superintendent's Report: Board Policy Review: Student Data Protection and Privacy/Cloud-Based Issues (3520.13), Service Animals in the Classroom – NEW – (6163.32), Exemption from AIDS Instruction – NEW – (6164.12), Summer School (6174), Proposed Final Budget Transfers, Final Quarterly Budget Report for 2022-23, Human Resources Report, Disbursement Report, Minutes Approval (6/12/2023, 6/26/2023), Board Comment. AGENDA PACKET
---
Milford Adult Education Seeking Talented Individuals to Teach a Class This Fall
Got a special talent that you'd be willing to share with others … to show them how it's done? Well – now's your chance. Milford Adult Education is hoping to hear from you and to give us an overview of your special skill. Are you an expert in a certain art or craft? Do you have advanced knowledge in an area of general interest? And the best part, you can earn extra cash if you agree to teach others! You'll have to act quickly, though, as we are getting ready to put together the final course list for the fall. Click HERE to get started and to let us know a little bit about your proposed course.
---
Food Resource Guide Can Help you Stretch Those Summertime Food Dollars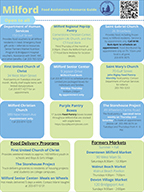 Summertime can present difficulties for families when it comes to food. Thanks to the generosity of our community, we are happy to share the following document that may be able to help you stretch those valuable food dollars. Take a look!
---
Have a pleasant weekend, everyone.
-Milford Public Schools