Amy Rizzo Named New Principal of John F. Kennedy Elementary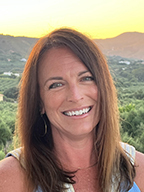 MILFORD – The Milford Public School district is pleased to announce the appointment of Amy Rizzo to the position of principal of John F. Kennedy Elementary. Mrs. Rizzo will replace Sean Brennan, who was named Assistant Superintendent of Business & Operations earlier this year. She will begin serving in her role as of July 1, 2023.
Mrs. Rizzo began her career as a middle school English language arts teacher in the Fairfield Public School district in 2002, a position she held for 11 years. In 2008, however, she also was engaged to serve as a teacher leader, where she served as the team liaison at the school. It was during this period Mrs. Rizzo developed her professional collaboration skills with her peers as she worked to develop, implement, and present a districtwide student electronic literacy portfolio program that included student goal-setting in reading and writing, student reflection, and student-led conferences with parents. Her districtwide work expanded to include the development of curriculum that aligned with standards-based measures, as well as strategies to assist struggling students through regular education interventions.
In 2013, Mrs. Rizzo moved into the role of elementary library media specialist within the Fairfield school district where she, again, served as a leader in districtwide initiatives while performing in her school setting at the same time. She was deeply involved in the planning, collaboration, and implementation of a variety of projects including the integration of technology into classroom instruction, and the revision of the library/media technology curriculum, K-5. It was at this time Mrs. Rizzo became involved in the area of instructional professional development, where she facilitated grade level meetings, provided professional development in technology for staff, and led building level Instructional Rounds.
In 2016, Mrs. Rizzo joined the Milford Public Schools, first as the library/media specialist at Mathewson Elementary School, and shortly thereafter (2019) moved into the role of Teacher Leader for Instructional Technology for the district. Her leadership played a crucial role at the onset of the COVID-19 pandemic, working with key district administrators to immediately and successfully convert the district to a completely remote academic environment, providing support for students and staff alike. During this time, Mrs. Rizzo also served as a major contributor for the Professional Learning/Teacher Effectiveness and Performance Evaluation plan (PL/TEPE) and provided support as a TEAM reviewer and mentor.
Given her accomplishments in collaborative staff development, Mrs. Rizzo was appointed to the role of Teacher Leader for Professional Learning in 2021 where she accelerated her work in implementing the district's High Quality Instruction (HQI) initiatives. Mrs. Rizzo led the MPS New Teacher Academy, the TEAM program, HQI Live!, PK-12 Mastery Based Diploma Experience, and the Professional Development & Evaluation Committee, among many others.
Mrs. Rizzo received a Bachelor of Arts degree in English and Secondary Education from James Madison University in 2001, followed by a Master of Arts degree from Fairfield University two years later, in the area of Curriculum and Instruction. In 2009, she earned an additional certification as a Library Media Specialist PK-12. In 2022, Mrs. Rizzo earned her 6th year degree Educational Leadership (092) from the University of Connecticut.
In addition to her vast experience in the world of education, Mrs. Rizzo has been a vibrant and well-known member of the Milford community, having served as President of the Calf Pen Meadow PTA, and has worked with many other local organizations. Mrs. Rizzo's friendly and positive demeanor have made her a welcome addition to any group.
Mrs. Rizzo was delighted to learn of her appointment to lead JFK Elementary – and looks forward to meeting everyone in the school community. "By establishing strong relationships with students, teachers, and the parent community, I will promote open communication, transparency, partnership, and a sense of belonging within our school," she commented. "My commitment to excellence in education is unwavering and I am deeply invested in the success and well-being of all of our MPS learners. As JFK's 'lead learner,' I bring an open heart, positive energy, and integrity to foster a community where all members feel respected, valued, and supported."
Dr. Anna Cutaia, Superintendent of Schools, commented "Mrs. Rizzo brings valuable experience to her new role, as an educator, as a leader, and as an engaged and knowledgeable member of the Milford community. Her emphasis on team building, along with her noteworthy positive attitude, will surely continue the tradition of excellence at JFK."
###