Adult Education Program Information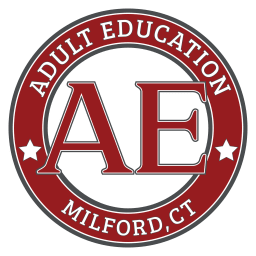 The Adult and Continuing Education Program is operated by the Milford Board of Education under the provisions of the statutes of the State of Connecticut. The General Interest program is open to residents as well as non-residents who are 18 years of age and older. To enroll in Basic Skills or GED classes, a student must be 17 and no longer enrolled in day school. Students who are at least 17 years old and have been withdrawn from school for six months and are CT residents are eligible to take the GED exam. ABE, GED, ESL and Citizenship are tuition-free classes for Milford residents.
Adult Education instructors are selected for their subject expertise. The Milford Board of Education and the Adult Education program do not promote the private services of the instructors nor endorse the companies with whom they are associated. Students are solely responsible for how the information provided in these courses applies to them.
Affirmative Action Policy Statement
The Milford Board of Education does not knowingly condone discrimination in employment, assignment, program or services on the basis of race, color, religion, gender, national origin, age, marital status, sexual orientation, ancestry, disability, or related abilities to perform the duties of the position.
All registrations must be made in advance. All students providing an email address at the time of registration. Walk-in registrations cannot be accepted by any instructor.
Tuition and fees for each course appear with the course description. Milford Senior Citizens (60 years or older) will receive a discounted rate where noted. The Senior Citizen rate only applies to Milford resident seniors. Books and materials for all classes will be acquired by students at their own expense.
If you need to withdraw from a course and need a refund, you must submit your request to the Adult Education Office. Deadline dates for withdrawals (in order to get a refund) are noted in the catalog. Please note, a $10 processing fee (per course) will be deducted from all withdrawal refunds.
If a course has to be cancelled for any reason by us, refunds will be issued immediately. Please allow approximately 4 weeks from the date of cancellation. If you have not received it after that time, please contact the office (203) 783-3461.
Parking is permitted only in designated areas. Do not park in fire lanes or in front of any doorway. Handicapped spaces are for the use of any visitor with a State-issued Handicapped Parking pass. Violators may be towed.
Smoking in any building or on school grounds is prohibited. Refreshments are permitted only in the cafeteria or designated areas.
Classes will be held at Joseph A. Foran High School, with the exception of those noted in the catalog at an alternative location. All activities offered are held in accessible locations. The administration reserves the right to limit enrollment, withdraw courses or discontinue classes at any time without notice.
Parsons Complex
70 W River St
Milford, CT 06460
*Park in the lot next to Wasson Baseball Field. Enter the building through Door 8.
Joseph A. Foran
High School
80 Foran Road
Milford, CT 06460
* Enter through the main entrance doors.
Jonathan Law
High School
20 Lansdale Avenue
Milford, CT 06461
*Park on the left side of the building adjacent to Milford Point Road.