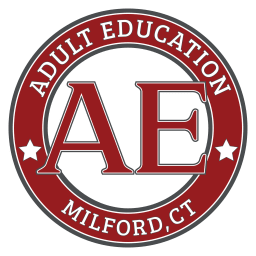 Students must make an appointment to register IN PERSON for any of our FREE Academic Courses.
Please bring the following with you to the appointment:
Proof of age (must be at least 17 years for GED® Prep course)

Proof of Milford residency

Photo ID
The registration process will take approximately 2 hours, including skills assessment and evaluation. Please plan accordingly.
NO CHARGE for materials for GED/ESL/CITIZENSHIP courses: The Milford Adult and Continuing Education Program is in compliance with Connecticut General Statutes Sec. 10-73a, there is no fee for registration, books or materials to any adult enrolled in the Citizenship, ESL, or high school completion programs. All Academic Classes (ABE/Pre-GED, GED, ESL, and Citizenship) are FREE to Milford residents.
GED®/Basic Skills Preparation
It's never too late to earn your diploma! We will help you prepare for the GED exam and begin your journey toward a better job, increased earnings, and improved opportunities.
We have two levels of courses available: GED Preparation and Adult Basic Education (ABE). Both are focused on improving your academic skills in the areas of:
 Social Studies  Mathematics  Reading   Science Writing
We will also work with you on basic computer skills and career development.
Daytime or Evening options available for your convenience.
DAYTIME COURSES
Tuesday/Thursday 12:30 – 2:30 p.m.
EVENING COURSES
Monday/Wednesday 6:30 – 8:30 p.m.
In-Person and Online Available
To register for the GED® EXAM (separate from the GED® Preparation Course), please contact Rick Raucci, our Adult Education Director, at (203) 783-3461. You may begin the process by going online at GED.com, but registration will not be complete until you have met with the Director.
Test Location
The actual test site is determined at the time of registration.
GED® Test Accommodations
Available for qualified individuals with a disability. Contact Rick Raucci at (203) 783-3461.
Eligibility/Items Required
 At least 17 years of age and a Connecticut resident
 Officially withdrawn from high school for at least 6 months
 Photo ID
 Withdrawal Form from high school (parent/guardian signature required for those younger than 18).
Costs
 Younger than 21: FREE
 Age 21 or older: $13 test fee
 Veterans (no age restriction) with at least 181 days of active duty: FREE
Fees are non-refundable. Make a check or money order payable to Milford Adult Education.
National External Diploma Program (NEDP): For adults who have acquired their academic skills through life and work experiences. Contact the West Haven Adult Education Dept. at (203) 937-4375 for more information.
Transcript Info: Transcript requests may be downloaded online at portal.ct.gov/SDE/adult-ed/GED.
English as a 2nd Language
Welcome! We will help you become comfortable in speaking, reading, and writing in your new language. Our friendly and caring approach is sure to help all students improve their communication skills.
In addition, we will work with you on basic computer skills and career development.
Two courses are available: one for Beginners and one for those with Intermediate/Advanced skills.
Daytime or Evening options available for your convenience.
BEGINNERS: Daytime Classes
Tuesday/Thursday 9:30 – 11:30 a.m.
ADVANCED: Daytime Classes Monday/Wednesday
9:30 – 11:30 a.m.
BEGINNERS & ADVANCED: Evening Classes
Monday/Wednesday 6:30 – 8:30 p.m.
In-Person and Online Available
U.S. Citizenship Preparation
Congratulations on your decision to become a U.S. Citizen! Our course provides an overview of U.S. History, the U.S. Constitution, and the governmental process. Discussion about the rights, responsibilities, and privileges of citizenship are included.
Evening Classes Only:
Monday/Tuesday
6:30 – 8:30 p.m.
Online Only
If a course has to be cancelled for any reason by us, refunds will be issued immediately. Please allow approximately 4 weeks from the date of cancellation. If you have not received it after that time, please contact the office (203) 783-3461.
Parking is permitted only in designated areas. Do not park in fire lanes or in front of any doorway. Handicapped spaces are for the use of any visitor with a State-issued Handicapped Parking pass. Violators may be towed.
Smoking in any building or on school grounds is prohibited. Refreshments are permitted only in the cafeteria or designated areas.
Classes are held at the site listed under the course description. All activities offered are held in accessible locations. The administration reserves the right to limit en3 Columnsrollment, withdraw courses or discontinue classes at any time without notice.